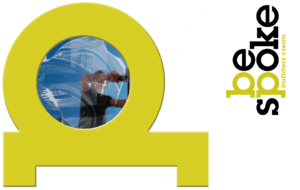 Our Ethos
The way Bespoke manages its contracts sets it apart in the marketplace, our focus is on quality of delivery. Consistently maintaining a high benchmark is achieved through our training programme and our understanding of effective management. All contracts are assigned to a dedicated supervisor under the control of the management team; we place a realistic limit on the number of smaller portfolios our managers will handle, allowing us to keep a close eye on standards.
Always Reliable
Bespoke is a partner you can depend on with confidence. We do what we say we are going to do, and we do it well. Plus, there's always a manager you can talk to about any aspect of our service.
Always in Touch
Communication is key. We talk to our clients about their service, about what is done, what cannot be done, and what should be done. This approach sets the tone for our relationship with you, keeping things open, up front and honest.
Always accountable
Transparency, accountability and integrity. These are part of our core values. We will analyse your needs, plan a programme and implement it as agreed on time, on budget and to your specification. Then we'll review it regularly to maintain our standards through the life of the contracted works.
• Construction cleaning • Builders and sparkle cleans • Commercial cleaning • Deep cleaning • Periodic window cleaning • Exterior facade cleaning • Hard floor maintenance • Carpet cleaning • Marble maintenance • Upholstery cleaning • Electronic equipment cleaning
CONTACT US TODAY
Start your journey to a new and better paid job with Bespoke Recruitment
CONTACT US TODAY
Start your journey to a new and better paid job with Bespoke Recruitment
Testimonials
Site Engineers
I have used Bespoke to provide me with Site Engineers. My dedicated consultant mentioned their Builders Clean division. As the end of my project was approaching I have decided to use them for sparkle clean. Within two days I have been provided with the quote. They have done a brilliant job. I will be using them for my next projects.
Permanent & Short Term Assignments
Bespoke have supplied us with White Collar candidates for permanent and short term assignments. I have been very impressed with the level of candidates and how well they were prepared for the interviews and the roles. For the first time we have recently used their online interview platform, OnPoint, and I must say it's a brilliant tool. It saved my company lots of time and we have been able to fill vacancies much quicker
Security Workers
I have been looking for a company who can provide me with Security workers for my site in Central London. One of my site managers mentioned Bespoke. I called them and was very surprised with their level of service. Not only they have supplied me with reliable security guards, but I have also been able to hire plants and site tools through them. I can honestly say Bespoke offer One-Stop solutions for all your construction needs.
Experts in Our Field
If you are looking for a good quality workers Bespoke is your agency. Their consultants are experts in their fields and they can deliver temporary workers on a very short notice. Having one point of contact ensures you get to know your consultant and they can fully understand your requirements. Bespoke is one of a few agencies I can call a true partner.
Construction Partner
Construction is a fast paced environment and as a contractor we need a reliable partner who can deliver what they promise. Bespoke have lived up to our expectations. They have been able to provide us with experienced trades and labourers so we could finish our projects on time
Quality Service
I have been using Bespoke for years and they have always delivered the best quality service. They are my preferred agency and I would be happy to recommend them.
Personal Approach
My company have always been using one of the biggest agencies on the market, so I wasn't convinced Bespoke will be able to deliver. However I gave them a chance and I have never regretted it. They have confirmed the size of the agency is not important. Bespoke have a very personal approach and they fully understand my requirements. They are now on our PSL